Choose Granite Countertops When Considering Natural Stone Kitchen Countertop Surfaces
You have many choices when deciding on which type of kitchen countertops you want. Your kitchen is the heart of your home and should have only the best countertops available. Granite countertops are the number one type of stone countertops and are the best countertop surface for your new kitchen countertops. At C & D Granite, Minneapolis, MN we have the selection you are looking for. Granite comes in a wide array of colors and patterns, you are certain to find one that will make your kitchen exquisite. Whether you are looking for kitchen remodeling ideas, are building a new kitchen or are looking to do a kitchen facelift, granite countertops are the right choice.
Granite has the unique quality of every slab being one of a kind. No two countertops are exactly the same and that means that your kitchen will stand out and shine above all others. Natural stone accents create a dramatic effect by enhancing your kitchen appliances, cabinetry and other kitchen accessories. You may have questions about granite countertops and may be unsure of why they are the best choice for you. Here are the answers to some of your questions and the top 10 reasons why your kitchen should have granite countertops.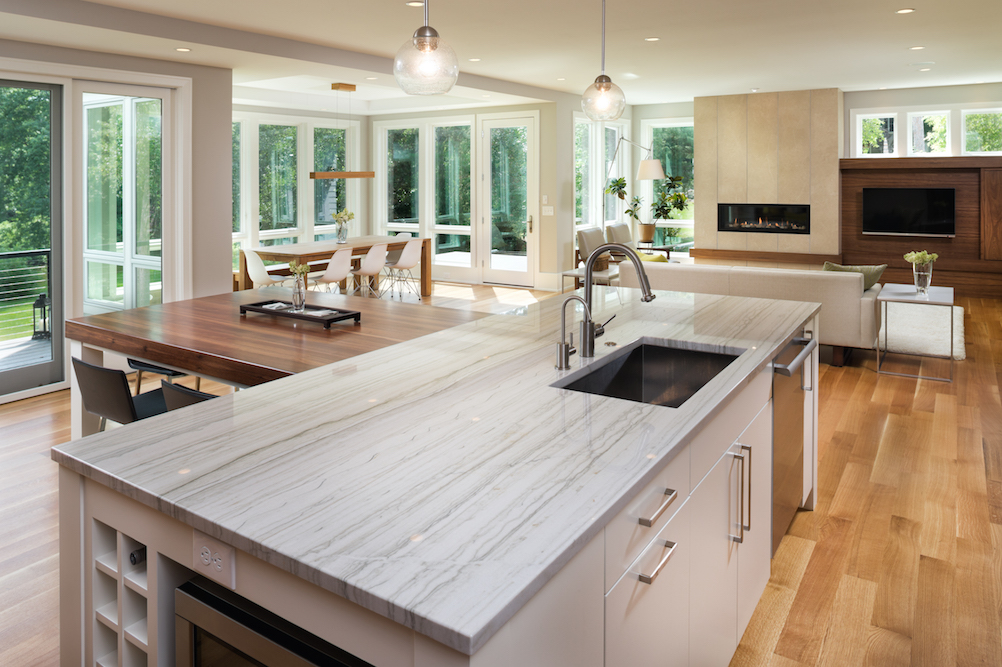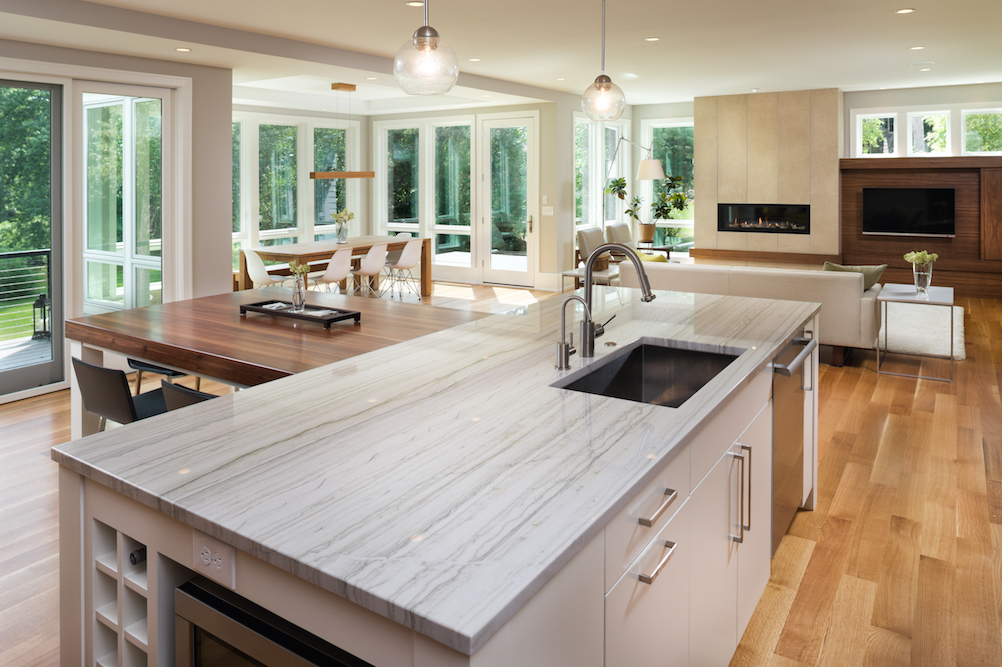 10 Reasons Why You Should Select Granite Countertops
1. Granite Countertops will Increase Your Kitchen's Value
By installing granite countertops, your home's value will increase. Even if selling your home is not on your radar for years to come, granite countertops are timeless and will hold their value. Your granite countertops will not only still look new when you decide to sell, they will still be a main selling point for your home. Many home buyer's are looking for things that will make a home unique & appealing and granite countertops are just the thing.
2. Natural Stone Surfaces are Durable
Granite countertops are tough. They are one of the few countertop surfaces that are scratch resistant, stain resistant and heat resistant. C & D Granite uses a special sealer to seal your granite countertops, which will increase the durability. You will be able to place hot pots and pans directly on the surface of your countertop and it will also be resistant to freezing, thawing, mold and mildew. No countertop surface is completely immune to accidents and granite is no different. Many people believe that if a granite countertop is damaged there is no repairing it, but that is not true. Granite countertops can easily be repaired so that any damage is unrecognizable. The repair is so simple that you could even do it at home!
3. Granite Countertops Have a Natural Stone Appeal
Your kitchen will have a luxurious, natural looking beauty to it by adding granite countertops. Since natural stone is a completely natural material, it provides a sense of comfort in that it is safe for the environment. Not only are granite countertops natural and environmentally safe, but they are also functional. They are nearly maintenance free and heating elements and charging stations can be added to increase your kitchen's functionality.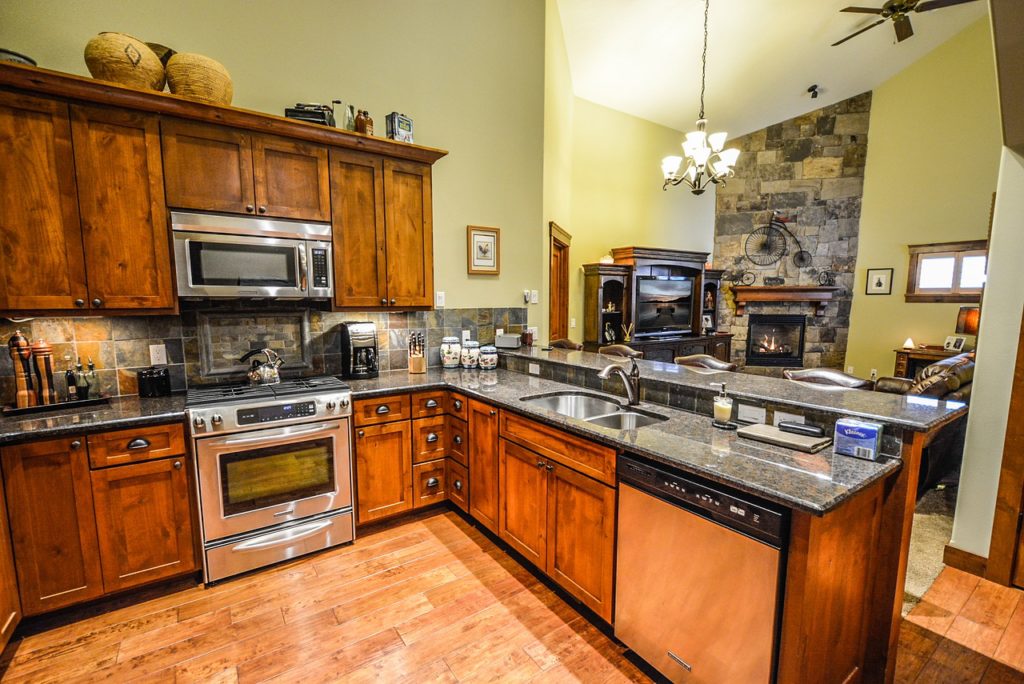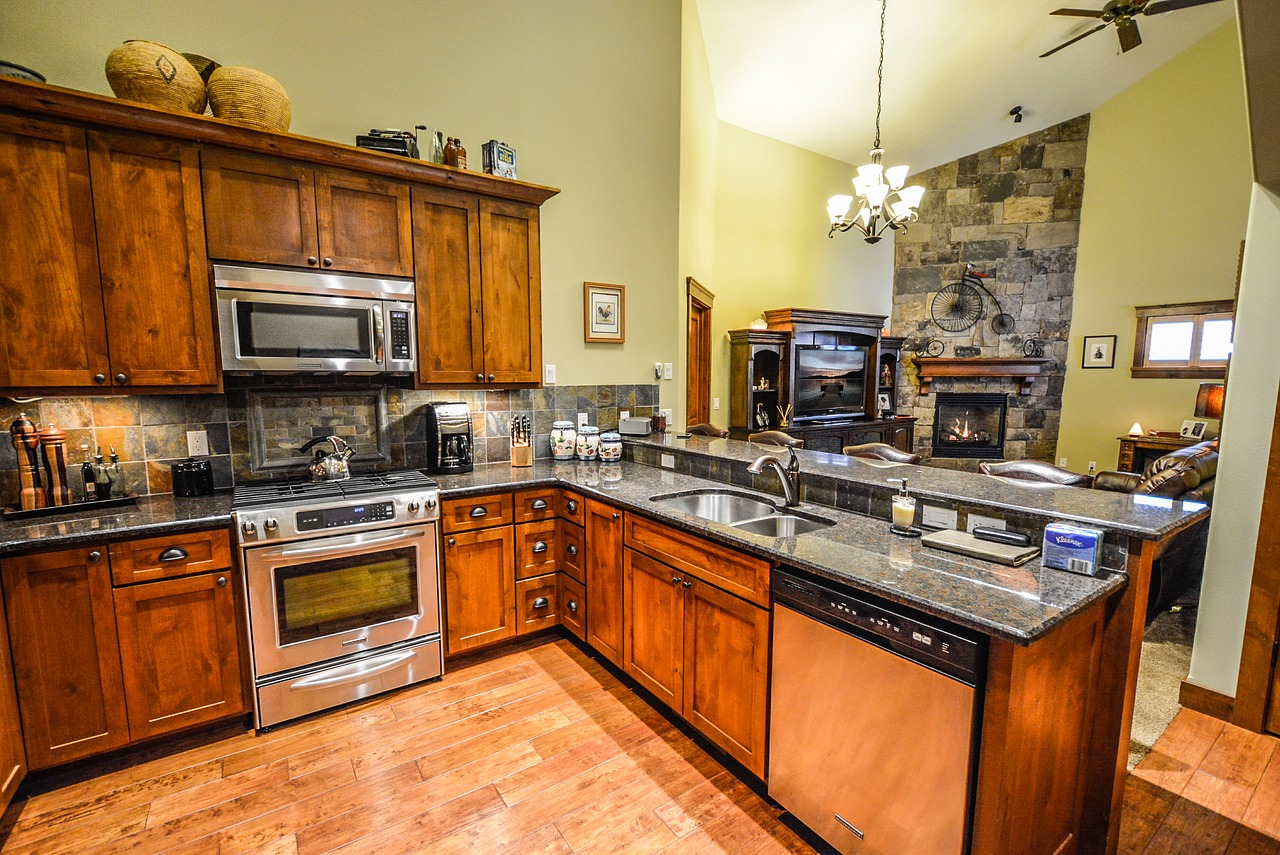 4. Resistance to Bacteria and Dirt
Since granite comes from Siliceous Stone, it is naturally resistant to bacteria, mold, mildew and dirt. This stone is heavy duty so it is easy to clean and can handle most types of cleaning products. Spills can be easily wiped up using a mild household cleaner and water. Your granite countertop will be easily free of bacteria and dirt. In the event of something adhering to your kitchen countertop you can simply scrape it off with a plastic putty knife or use vinegar and water.
5. Virtually Maintenance Free
Any granite surface can be simply wiped clean with warm soapy water for daily maintenance. For any tougher jobs, vinegar and water can be used on your granite countertop. In the cases of long time negligence in cleaning your natural stone countertop, a heavy duty granite stone degreaser can be used. Your countertop will also need to be resealed every three to five years to give it a brilliant sheen and updated protection. The maintenance and cleaning of granite countertops is very simple.
6. Granite Countertops are Easily Repairable
No countertop surface is completely immune to accidents happening, granite is no different. Many people believe that if a granite countertop is damaged there is no repairing it, but that is false. Granite countertops can easily be repaired so that any damage is unrecognizable. The repair is so simple that you could even do it at home!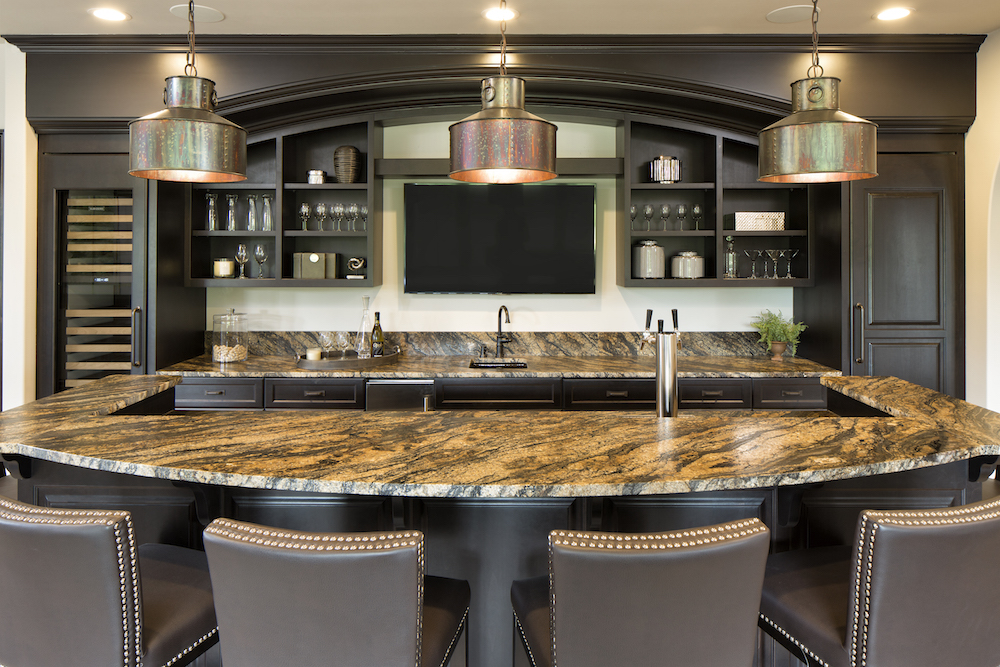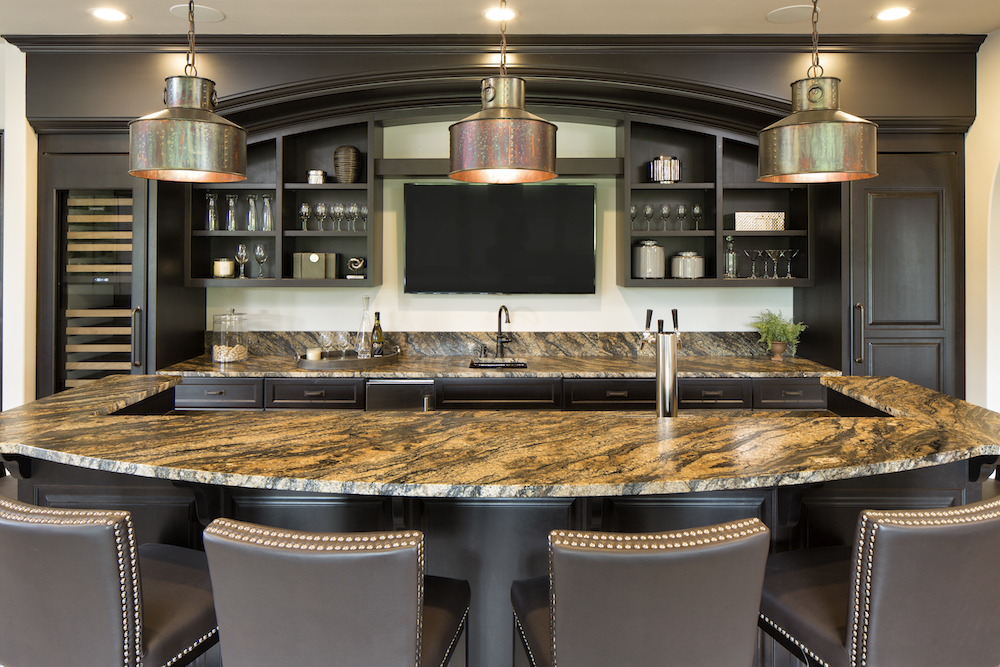 7. Your Family will Benefit from Granite Countertops
Whether you are teaching your children to cook or throwing a family dinner party, granite countertops will be a welcome addition. Family members will not have to worry about damaging your new kitchen countertops when cooking. Granite is virtually damage resistant and will make learning to cook a breeze. When throwing a family gathering or having guests over, they will revel in the beauty and warmth of your new granite countertops.
8. Granite is Affordable
Granite countertops usually cost the same as many man-made surface countertops. Advances in technology continue to lower the cost of granite countertop fabricating and it is very cost efficient. With C & D Granite's unlimited guarantee, granite countertops are certainly more cost effective than settling for a lesser quality product. Granite countertops allow for much more durability and are an affordable option in kitchen countertop surfaces.
9. Your Kitchen Countertop Will be Flat
Having a flat surface to work on can be very beneficial in any kitchen. Whether you are a baker, a fryer or a cook, a flat surface will make your job much easier. When you are rolling out a pie crust, making a homemade pizza or preparing panfish for the deep fryer, you want a sturdy surface. You will have plenty of space and plenty of help in using a flat surface to prepare food on. 
10. Wide Variety of Options
Not only will you get to choose the color of your granite countertop, but you will get many other options as well. No two granite slabs are alike, so you will have unique options right from the start. Each granite countertop also has a unique countertop edge. You will have a number of choices when deciding upon which edge you want. You will have some great options when choosing your new granite kitchen countertop.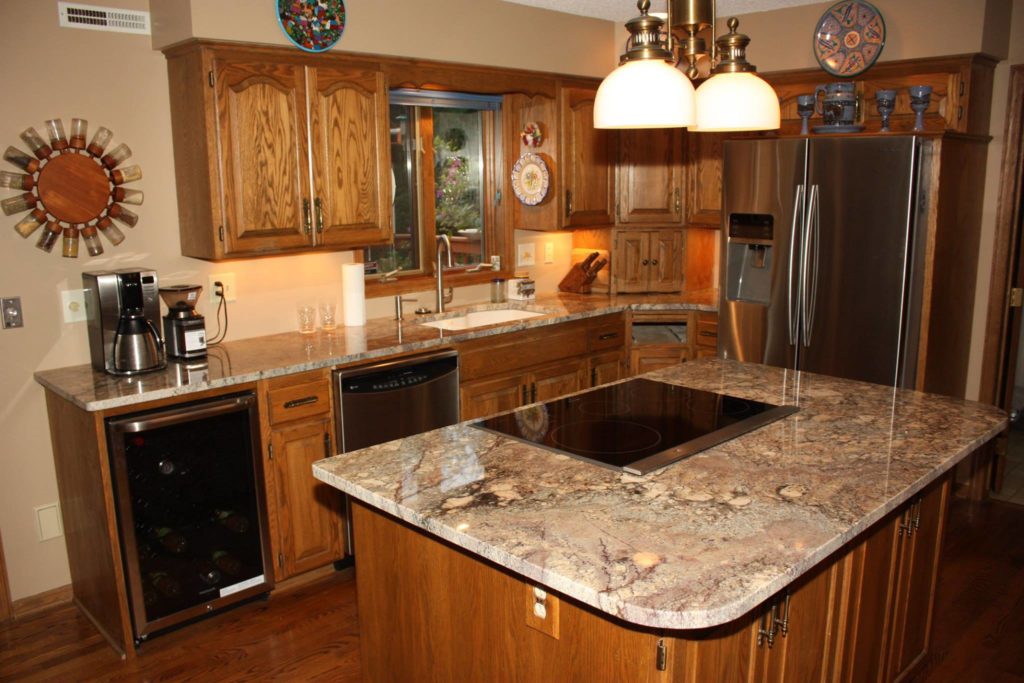 Granite Countertops are the Best Choice for your New Kitchen Countertops
Granite countertops have so many wonderful qualities that make them the best option. You will have many unique selections that will make your kitchen like none other. You will have affordable kitchen countertops that will enhance the beauty of your kitchen and you will increase the value of your home by installing granite countertops. At C & D Granite, Minneapolis, MN, we know how important a decision like which countertop surface to choose is. It is our commitment to make the entire natural stone process easy and worry free. We will assist you with everything beginning with the planning of your stone countertops and ending with our one of a kind unlimited warranty. Contact us today  to get started on your new kitchen countertop project.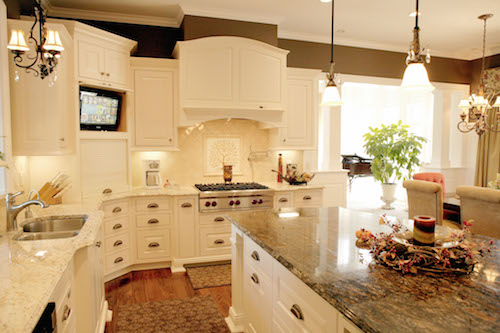 C&D Granite Minneapolis Stone Countertop Showroom
6801 Shingle Creek Pkwy, Suite 400 Brooklyn Center, MN 55430
C&D Granite Richmond Stone Countertop Showroom
767 1st Street SE Richmond, MN 56368