Privacy Policy – C&D Granite Countertops
This website is owned & operated by C&D Granite. By using and visiting this site, you agree to be bound by all terms and conditions set forth in our Privacy Policy. C&D Granite may change the content contained in this Privacy Policy at its own discretion at any time by updating this page. It is advised to visit this page on a regular basis to review any changes to the Privacy Policy. If you do not agree to all of the terms and conditions in the Privacy Policy, you must leave this website immediately.
This Privacy Policy outlines how C&D Granite (the Site Owner) collects, uses, and protects the information that you provide us when you use this website. Any information provided to the Site Owner on this website will be used accordingly to this Privacy Policy and may be shared across any website operated by the Site Owner.
The Site Owner is committed to protecting your privacy. Should the Site Owner ask you to provide certain information that can identify you when using this website, you can be assured that it will only be used in accordance to this Privacy Policy.
If this website is ever sold or merges with another company that is not owned by the Site Owner, you should expect that either some or all of the information that is collected from this website maybe transferred to the new company. If this is so, the Site Owner will seek to have the new company to use any personal information transferred to them by this site in a manner that is consistent with this Privacy Policy statement. However, the Site Owner cannot guarantee that they will be able to impose this requirement or that the new company will comply to this request.
Content & Information on this Website
Your use of this website acknowledges that all of the content, images, graphics, videos, audio files, and other materials on this website are subject to copyright or trademark protection (Intellectual Property). This content is owned by or licensed to the Site Owner. To the expectance permitted in the statements below, any duplication of this Intellectual Property on this website in part or as a whole requires the written permission of the Site Owner.
About The Information We Collect
The following information may be collected (Personally Identifiable Information):
Name
Contact information (email address, mailing address, city, state, or zip code)
Any other relevant information used in operation of this website
Use your discretion when providing Personally Identifiable Information and feel free to refuse to provide any of the information we inquire. However, such refusal may impede your use or experience of this website and may disqualify you from entry into the site or other Third Party sponsored contests, promotions, giveaways, etc. In some cases, the Site Owner may use a Third Party site for contests, giveaways, promotions, etc.
This website does not knowingly collect, use, or disclose personal information of children under the age of 13 (consistent with the Children's Online Privacy Protection Act).
What We Do With Gathered Information
We require this Personally Identifiable Information to effectively run online contests, giveaways, surveys, etc and collect general contact information wen it is submitted on a contact form. We require this information so we can understand your needs and provide you with better service for the following reasons:
Provide estimates for products and services.
Internal record keeping.
Improvement of our website and other services.
Market research purposes (we may contact you via email, phone, or mail). You are in no way obligated to partake in any market research requests.
Customization of the website in accordance to your interests.
Security Information
The Site Owner is committed to keeping your information secure. To prevent unauthorized access or disclosure of information, we have physical, electronic, and managerial procedures to guard and secure the information we collect online. You may choose to have the Site Owner remove or alter information we have collected on file about you (even if you have previously opted in to provide information). To opt out or alter such information, please send an email to sales (at sign) cdgranite (dot) com.
We may use your personal information to send you promotions about Third Parties that we think you may be interested in if you opt in saying that you wish for this to happen.
You may request details on Personally Identifiable Information which we currently hold about you by writing to:
767 1st Street SE
PO Box 219
Richmond, MN 56368
Copyright Infringement Statement
If you believe that the information or materials on this website infringe on your copyright, you may send a notice that includes the requirements set in place by the Digital Millennium Copyright Act of 1998 (DMCA). You may request that we remove or block any access to the claimed copyright infringing material(s). If you think that someone has wrongfully filed a notice of copyright infringement against you, DMCA allows you to send us a counter notice. These notices must meet current requirements imposed by the MCA. Please see http://www.loc.gov/copyright (link). Please send notices and counter notices to the address above.
Disclaimer and Warranty
THE CONTENT OR OTHER RELATABLE INFORMATION ON THIS WEBSITE OR ANY THIRD PARTY SITES.SERVICES LINKED TO OR FROM THIS WEBSITE IS PROVIDED AS IS AND WITHOUT WARRANTIES OF ANY KIND. TO THE FULLEST EXTENT PERMISSIBLE PURSUANT TO APPLICABLE LAW, WE DISCLAIM ALL WARRANTEES, WHETHER EXPRESSED OR IMPLIED. THESE WARRANTEES INCLUDE WARRANTEES OF MERCHANTABILITY, FITNESS FOR A PARTICULAR PURPOSE, COMPLETENESS, AVAILABILITY, ACCURACY, SECURITY, COMPATIBILITY, AND NON-INFRINGEMENT. WE DO NOT GUARANTEE THAT ANY CONTENT IS COMPLETELY ERROR FREE OR THAT ACCESS WILL BE UNINTERRUPTED, THAT ALL DEFECTS WILL BE CORRECTED, OR THAT OUR WEBSITE OR SERVER THAT MAKES THE CONTENT AVAILABLE IS FREE OF VIRUSES OR OTHER HARMFUL COMPONENTS. IF SUCH EVENTS OCCUR, YOU ASSUME THE ENTIRE COST OF ALL NECESSARY SERVICING, REPAIR, OR CORRECTION. WE DO NOT WARRANT OR MAKE ANY REPRESENTATIONS REGARDING THE USE OF OR THE RESULTS FROM THE USE OF ANY CONTENT. YOU HERBY IRREVOCABLY WAIVE ANY CLAIM AGAINST US WITH RESPECT TO CONTENT AND ANY CONTENT YOU PROVIDE TO A THIRD PARTY SITE (THIS INCLUDES CREDIT CARD AND OTHER PERSONAL INFORMATION).
The website content is not intended to constitute legal or professional advice or diagnosis. It may not be used for these purposes. You should not act or refrain from acting on the basis of any content included in or accessible through our website without seeking the appropriate legal or other professional advice on the particular facts and circumstances at issue from a lawyer or other professional licensed in your state or country or other appropriate licensing jurisdiction.
Limitation of Liability
UNDER NO CIRCUMSTANCES (INCLUDING NEGLIGENCE) SHALL WE BE LIABLE TO YOU OR ANY OTHER PERSON/ENTITY FOR ANY DIRECT OR INDIRECT, INCIDENTAL, SPECIAL, OR CONSEQUENTIAL DAMAGES. THIS INCLUDES LOST PROFITS, PERSONAL INJURY )INCLUDING DEATH), AND PROPERTY DAMAGES OF ANY NATURE WHATSOEVER THAT RESULT FROM A) THE USE OF OR THE INABILITY TO USE OUR WEBSITE OR CONTENT, OR B) THE CONDUCT OR ACTIONS, EITHER ONLINE OR OFFLINE, OF ANY USER OF OUR WEBSITE OR ANY PERSON OR ENTITY. THIS INCLUDES IF WE HAVE BEEN ADVISED OF THE POSSIBILITY OF SUCH DAMAGES.
Jurisdiction and Venue
You agree that any action at law or in equity arising out of or relation to these terms of use or our website shall be filed, and that venue properly lies, only in state courts located in Stearns County, Minnesota. You hereby consent and submit to the personal jurisdiction of such courts for the purposes of litigation of any such action. We make no representation that the content of our website is appropriate or available for use in any particular location. Those who make the choice to access our website do so on their own initiative and are responsible for complying with all of the applicable laws, including any applicable local laws.
General Provisions
These terms of use shall be governed by and constructed in the accordance with the laws of the State of Minnesota and law of the United States. This is done without giving effect to any principles of conflicts of law. If any provision of these terms of use shall be unlawful, void, or for any reason unenforceable, then that provision shall be deemed severable from the terms of use and then shall not affect the validity and enforceability of any remaining provisions. No waiver of any provisions of these terms of use by us shall be deemed a further or continued waiver of such provision or any other provisions. Our failure to assert any right or provision under these terms of use will not constitute a waiver of such rights or provisions. In these terms of use, the word including is illustratively, as if it is followed by the words but not limited to. All trademarks appearing on this website are property of their respectable owners. Nothing noticed on this website should be construed as granting any license (by implication, estoppel, or otherwise) or right to use any trademark displayed on this website without the written permission of the party that may own that applicable trademark.
YOU AGREE THAT ANY CAUSE OF ACTION YOU MAY HAVE ARISING OUT OF OR RELATED TO THESE TERMS OF USE MUST COMMENCE WITHIN ONE YEAR AFTER THE CAUSE OF ACTION ACCRUES. OTHERWISE, SUCH CAUSE OF ACTION SHALL BE PERMANENTLY BARRED.
Updated February 23, 2017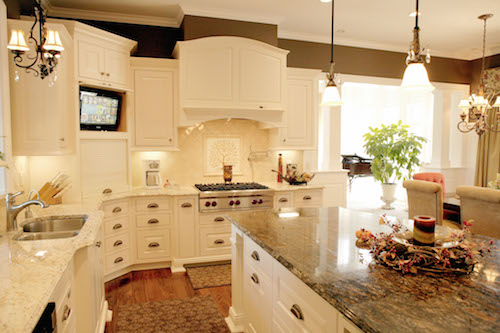 C&D Granite Minneapolis Stone Countertop Showroom
6801 Shingle Creek Pkwy, Suite 400 Brooklyn Center, MN 55430
C&D Granite Richmond Stone Countertop Showroom
767 1st Street SE Richmond, MN 56368