Stone Countertop Myths and Facts
Myth: Granite stone is higher priced that other solid surface materials
As technology advances, we are able to process our stone in a more cost efficient manner. Granite is now available for the same price as many man-made surfacing materials. Granite surfaces offer more unique patterns and creative colors to choose from over artificial surface materials for the same price. Please request a quote if you are interested in hearing how much your granite countertop or other natural stone may cost.
Myth: If a granite surface is damaged, it cannot be repaired
Although granite surfaces are durable and are built to last, accidents can happen and cause damage to granite countertops. However, granite can be easily repaired. Granite that is chipped or broken can be re-finished to appear as if it was never broken. Granite can be repaired with colored epoxy to blend in with the stone, making scratches or dents easy to repair at home. Learn more about our granite unlimited guarantee.
Facts on radon emissions from natural stone
While granite and other natural stones may contain minute traces of radon, in terms of building materials, radon emissions from concrete, cement, and gypsum should be of greater concern: "Radon is a naturally occurring gas generated by the decay of trace amounts of uranium found in the earth's crust throughout the world. It is an unstable gas that quickly breaks down and dissipates in the air." A full report is available at Marble Institute of America's web site at www.marble-institute.com.
Facts on bacteria in granite countertops
Granite continues to be used and approved in food and medical applications. The Centers for Disease Control and Prevention (CDC) has no records of granite harboring bacteria, and has no reports of people becoming ill from bacteria in granite. With regular cleaning, granite is far less likely to support bacteria than butcher block or even laminate materials with top-mounted sinks. This claim has also been tested by the Hospitality Industry. Their article can be found at www.hi-tm.com under "Publications and Reports."
Facts on maintenance of granite countertops
Contrary to popular beliefs, granite surfaces are actually very easy to maintain. Granite, quartz, and marble surfaces can be easily cleaned with a warm soapy water. You can wipe off any stuck on solutions with vinegar and water. If you neglect your granite top for long periods of time, you will need to use a heavy-duty granite stone degreaser to remove all grease and grime. Every three to five years, you should re-seal your granite top.
What steps can I take to avoid damaging my granite surface
Be sure to avoid leaving hot pans sitting on your granite surface for prolonged periods of time, especially in the winter months. Extreme temperature changes for long periods of time could cause damage to the granite top. Instead, use mats or pot holders under any hot objects if you intend on leaving extremely hot objects on the counter for extended periods of time. For more information on how to care for a stone countertop, please read our care and maintenance page.
Contact Granite Countertop Experts
Still have a question about stone countertops? Ask one of our knowledgeable stone experts.
Contact Us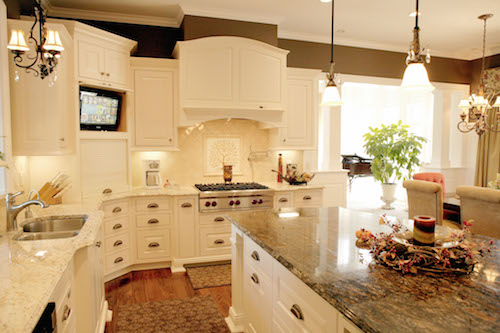 C&D Granite Minneapolis Stone Countertop Showroom
6801 Shingle Creek Pkwy, Suite 400 Brooklyn Center, MN 55430
C&D Granite Richmond Stone Countertop Showroom
767 1st Street SE Richmond, MN 56368