Quartz Countertops vs Granite Countertops
Granite and Quartz Countertops – C&D Granite Countertops
Finally obtaining the kitchen you have always dreamed of is a truly rewarding feeling. Planning which stone countertop option will best suit your kitchen renovation project can be an intimidating task. There are many characteristics of each stone type to consider when choosing between granite countertops and quartz countertops. Both quartz and granite stone countertops have their own unique advantages and offerings. Here is a brief list of characteristics that differentiate granite from quartz countertops that you should think about when selecting your kitchen countertops.
Quartz Countertops
Beauty is brought to your home every day when you select a quartz countertop. Quartz is a low maintenance countertop choice for your kitchen or bathrooms and is built to last many years. The natural stone appearance looks like real stone such as marble or granite but is actually man made. Quartz has a lower cost than granite and is often times the option homeowners make when they desire the unique, natural appearance of stone but are working with a budget. C&D Granite has a solid history in stone countertop installation and knows that you should consider the following benefits and drawbacks to choosing quartz for your home improvement project.
Benefits to Quartz Countertops:
Stain resistant from common stills and scratch resistant
High quality and long lasting
Smooth and solid surface
Unsuitable for bacteria growth
Virtually no maintenance
Natural stone appearance
Drawbacks to Quartz Countertops:
Repetitive high-heat application may damage the finish over time
Direct sunlight an cause dulling after many years
Visible seams in solid color countertops if not sealed properly (make sure you select a trusted granite expert
The natural stone appearance provided by quartz truly increases the overall appearance of your kitchen or bathrooms.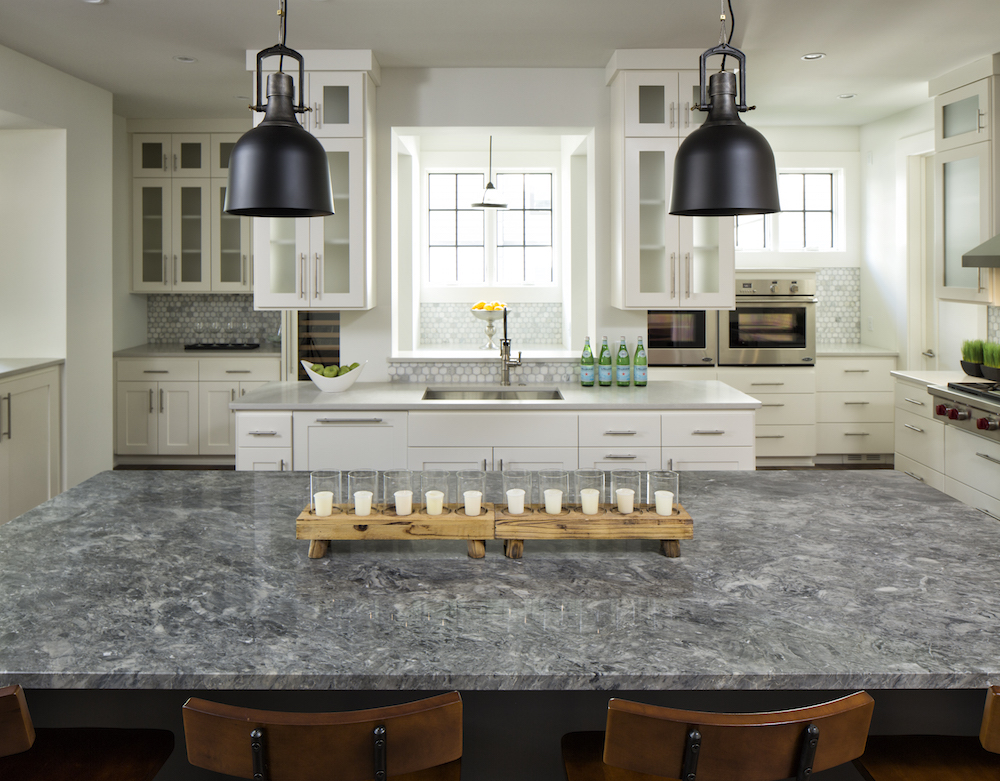 Granite Countertops
Homes with granite countertops always look modern and are the perfect upgrade option for your bathrooms or kitchen. Granite is an unique natural stone choice, no two granite slabs look the exact same. Choosing granite countertops for your home improvement project is the best choice when high quality and a natural appearance is important to you. The C&D Granite experts have knowledgable and trained staff members who can answer any questions you have about granite and are readily available to you during the entire installation process. C&D Granite has worked with countless people over the years and has the testimonials to show that our work can be trusted for your home improvement project. We know the difficulties faced when trying to decide what stone to use for your kitchen or bathrooms. Be sure to take note of the following benefits and drawbacks to choosing natural granite countertops for your renovations projects.
Benefits to Granite Countertops:
High quality and long lasting
Unique natural stone appeal
Timeless appearance that lasts many years
Low maintenance, contrary to popular myths (link to myths page

)
Drawbacks to Granite Countertops:
Less durable than quartz countertops
Can gather bacteria if not given the proper long term care it needs
Seams can be seen if the slab has clear directional movement in the stone
Costs a bit more than quartz stone countertops
Granite countertops are great choices for your home improvement project. Granite is strong, durable, and are beautiful for years to come.
Other Considerations
There are other important considerations to take in besides the direct implications of choosing the type of stone for your home renovation project.
The particular edge profile

you desire for your kitchen and bathroom countertops

Whether you could benefit from our Unlimited Guarantee when you choose to work with C&D Granite/li>
If you and your family would enjoy heated countertops
The desired stone color to match your cabinetry in your bathrooms or kitchen
If you could like to add a stone backsplash to go with your new natural stone surfaces
We hope that this guide helped you better understand the differences between quartz countertops and granite countertops. Both stones have natural, pure appearances but also have their own benefits as well as drawbacks. If you have any questions regarding stone countertops, we urge your to contact our helpful stone countertop experts.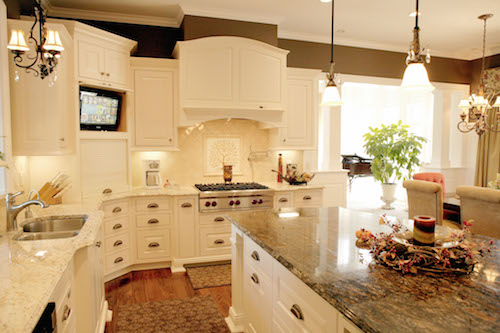 C&D Granite Minneapolis Stone Countertop Showroom
6801 Shingle Creek Pkwy, Suite 400 Brooklyn Center, MN 55430
C&D Granite Richmond Stone Countertop Showroom
767 1st Street SE Richmond, MN 56368