Granite Countertops & Marble Sink Tops for bathrooms, kitchens and more – Minneapolis MN
Every stone has its differences in color, pattern, and durability. At C&D Granite, we provide natural stone materials that will look beautiful for decades to come. Choosing a stone countertop brings beauty to your office, kitchen, bathroom, and other areas of your home or business.
Types of Stone Countertops
The stone we use for making our quality countertops can be derived from siliceous stone and calcareous stone.
Siliceous Stone
This type of stone is made mostly from silica. It is heavy duty and easy to clean as it stands strong against heavy cleaning products. The types of siliceous stone we use includes:
All of these stones are durable and very resistant to scratches or chips. Granite, quartz, and soapstone countertops are very heat resistant too. To learn more about these stone countertop surfaces, read the differences in stone here.
Calcareous Stone
This type of stone is made mostly from calcium carbonate. It is more sensitive to acids and other heavy duty cleaning products, therefore a requires lighter cleaning products than siliceous stone would require. The type of stone we use on it includes:
Travertine
Limestone
Onyx
Marble is a metamorphic rock and is made from limestone. We use intense pressure and heat on to create a beautiful finish. Although marble is less hard than granite and quartz, it is still heat resistant. Read more on the differences in our stone surfaces here.
Granite, marble, quartz, and soapstone are all excellent options for your kitchen countertops, bathroom vanity tops, and other home areas around your home. Stone countertops can also make your business look more professional and make the interior of your building appear sleek, timeless, and clean.
Stone Countertop Colors
C&D Granite has several options of stone colors for you to choose from in marble, granite, quartz, and soapstone. Natural stone colors differ depending on the type of stone you choose – no two stone slabs are precisely the same. View our natural stone color selections at our C&D Granite stone color gallery and see the difference between the colors of our stones.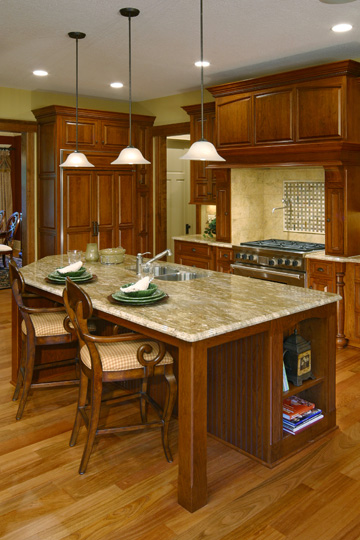 Visit one of our online room visualizers to try different looks with natural stone
Choose the stone that's right for you
If you are considering new kitchen, bathroom, office, or business countertops, give us a call or visit one of our convenient locations. C&D Granite is committed to meeting our own high expectations as well as our customers' expectations.
Talk to a pro
C&D Granite Minneapolis Stone Countertop Showroom
6801 Shingle Creek Pkwy, Suite 400 Brooklyn Center, MN 55430
C&D Granite Richmond Stone Countertop Showroom
767 1st Street SE Richmond, MN 56368